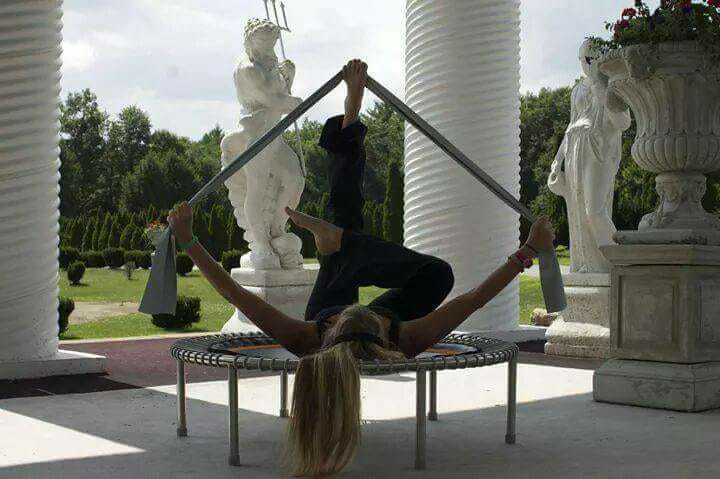 A HEALTHY FITNESS EXPERIENCE
GravOxy harnesses the power of gravity to oxygenate and strengthen every cell in your body.
Adaptive to the Individual. (Exercises are modifiable for any fitness level and limitations)

Every Session is Unique (Variety is the spice of life)

It's okay to laugh and smile

Comfortably Challenged (You are never in competition with anybody)

Fitness from the Inside Out (Every cell in the body is strengthened, cleansed, and toned)

A Friendly and Supportive Environment
Summer Fun on South 2018
Small group experience for 5-10 year olds with fun fitness, and creative academic adventures ~ art, music, and dramatic engagement!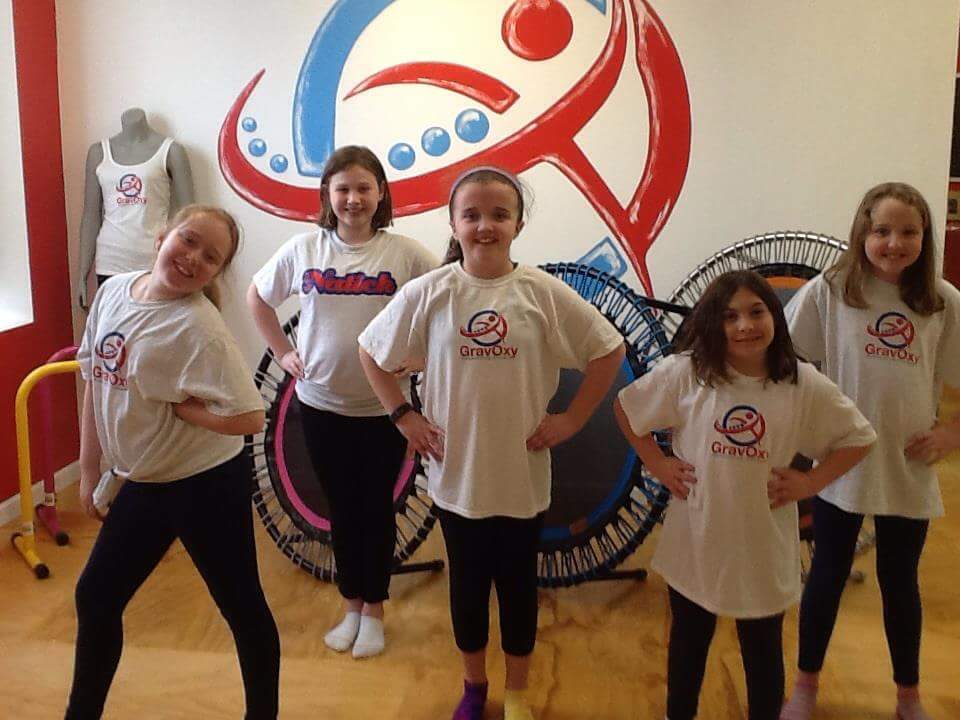 Give your child a different kind of summer experience. At Summer Fun on South​ we begin and end with fun fitness: rebounding, obstacle courses, walking field trips, yoga, dance, fantasy fitness and more! Music is a part of all of our movement and fun.
Each week features outdoor play as well as indoor creativity: art projects, writing, storytime, dramatic play and a culminating activity on Fridays. Our motto: Make friends, have fun, leave happy!
Boston Marathon
Viewing Spot Celebrates 21 Years
The Best Kept Secret Along The Route
This is Joanne Schmalenberger's (JoAnimal) 21st annual Boston "Bounceathon." The event is located at the Morse Tavern in Natick, 1/2 miles before Wellesley College. Marathon runners have called this the best part of the route for years.
Joanne, founder of GravOxy Fitness, encourages people to have fun and laugh as they improve their health and wellness. By jumping on the rebounders (mini trampolines) participants are getting an amazing workout, since they are strengthening every cell in their body as they bounce up and down. Music DJ Joey plays tunes to further energize the crowd and runners.
She started the Bounceathon in 1997 with just one rebounder in front of the Pizza Peddler. Each year, Joanne has added rebounders for spectators to enjoy. Six years ago she moved the event to Morse Tavern, which is located at 85 East Central Street, Natick.
This year, Joanne will have 26 rebounders for spectators of all ages and even runners to bounce on.
Please feel free to call 508.245.1991 for more information.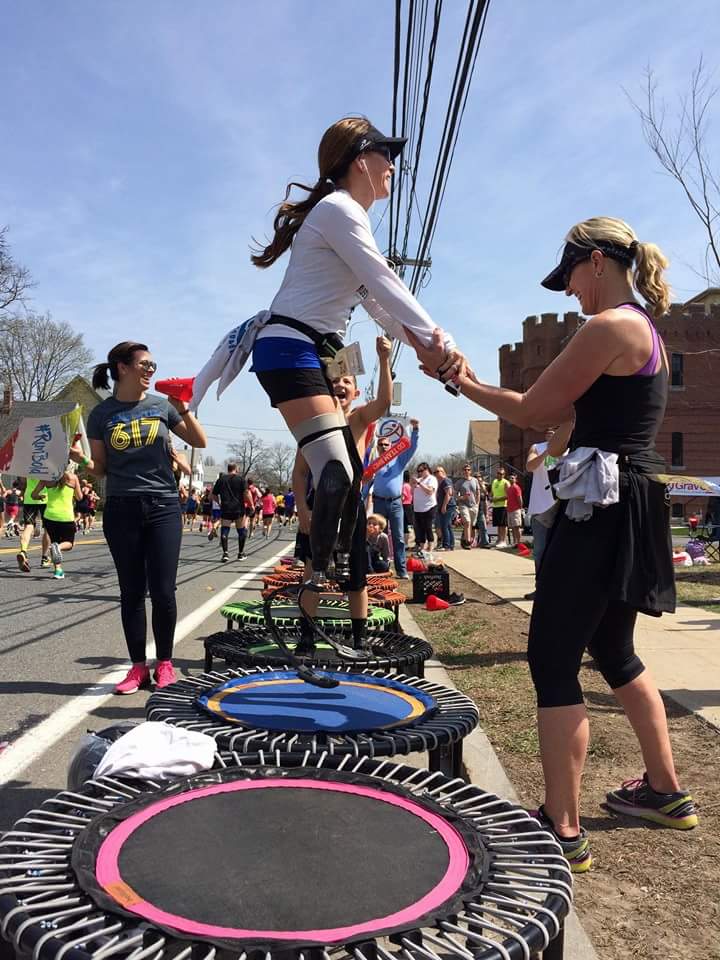 Jami Goldman Marseilles, the first woman double amputee to finish the Boston Marathon.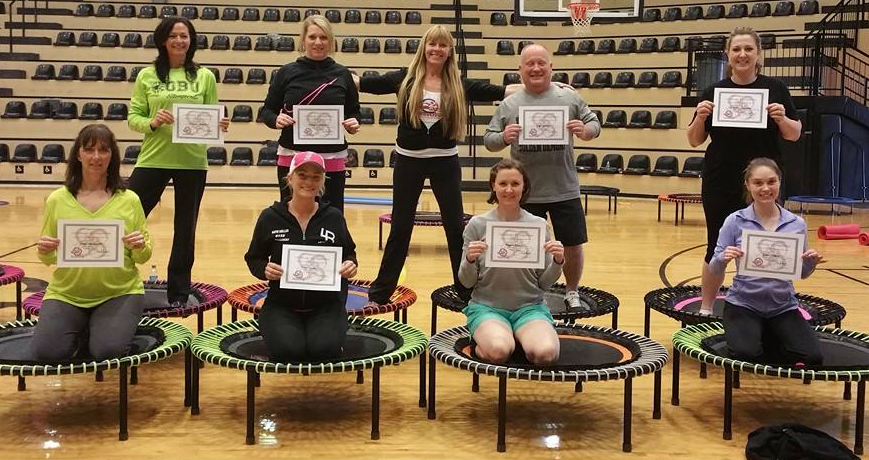 GravOxy Rebounding Certification
GravOxy Rebounding Instructor Training Certification will enable you to maximize the physical, mental and wellness benefits of rebounding across diverse populations.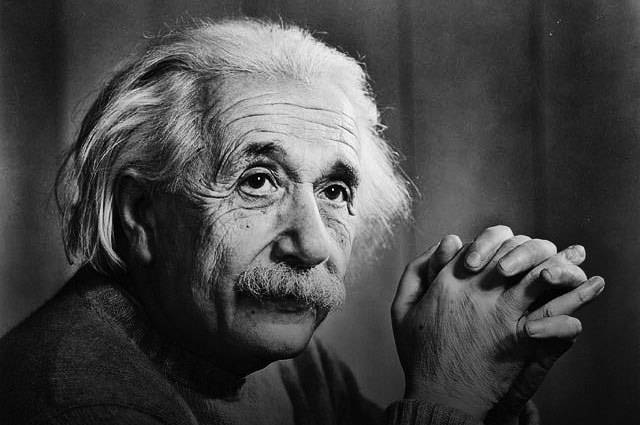 In 1911, Albert Einstein stated if we could some how line up the 3 forces of acceleration, deceleration and gravity in a vertical plane, we would create the best exercise for the cells of the human body. No exercise met this definition until rebound exercise was developed.